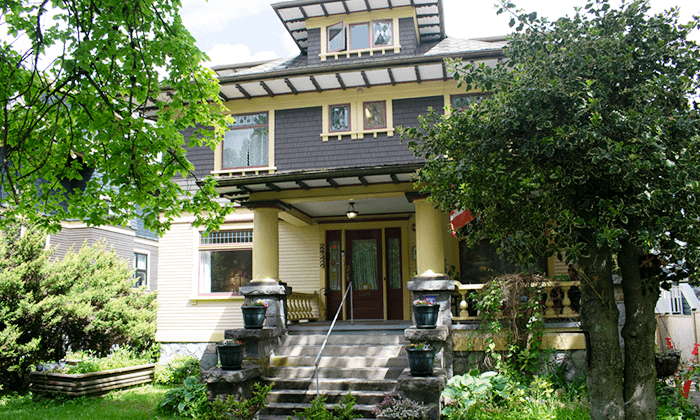 Windsor Guest House is part of the few Heritage Houses in the Mount Pleassant Neighbourhood in Vancouver city.
The Wakefield Residence, built in 1911, is an excellent example of the Edwardian Foursquare architectural style, which arose as a reaction to the more elaborate Victorian styles.
A Foursquare home's interior layout was typically oriented to maximise interior room space, often dividing the house into four main rooms on both the main and upper floors, separated by a central staircase. The light and views were enhanced by the use of large windows.
Between 1909 and 1911, Vancouver homebuilder James B. Arthur was responsible for the design and construction of numerous houses in the city, including the Wakefield Residence. The heritage building has a flared hipped-roof and small hipped-roof dormers on each elevation, as well as cedar shingle cladding and carved woodwork.
Breakfast Starts 8:00 am to 10 am
FULL VEGETARIAN BREAKFAST